Structure – both of the board as a whole and of individual board meetings – is an important part of an efficient and successful nonprofit board.
Form follows function, or at least it should when it comes to boards. Without a strong structure, boards can fall prey to a whole host of dysfunctions, not the least of which is wasted time, boring or unfocused meetings, and lack of strategic engagement from the board.
There's no one-size-fits-all approach to board structure, but there are some general principles that each board should keep in mind when thinking about its ideal structure:
A board can be too big — just as it can be too small. While it's impossible for BoardSource to say what the "right" size for a board should be, we have seen boards that are too big and too small.
---
A board that's too big may
struggle to meaningfully engage all of its board members
find it difficult to effectively discuss important issues and make decisions as a full group
have an executive committee that is too powerful and functioning as the governing body for the organization or an executive who wields too much power
A board that's too small may
not have enough external perspectives to provide meaningful input on organizational strategy
not enable the organization to reach important networks for purposes of advocacy, fundraising, and collaboration
be too insular to provide effective oversight, and the executive may wield too much power
---
Just because it's important doesn't mean you need a committee for it. Standing committees should be formed only when there's a true need for a role or function to be performed by board members on an ongoing basis. BoardSource recommends that every board have a committee focused on financial oversight as well as a committee focused on the performance and composition of the board (often called a governance committee). Many boards also see the value of a fundraising or development committee, as well as committees focused on other organization-specific ongoing leadership roles for the board. To address specific projects and designed tasks, time-bound task forces or focused discussions within board meetings are preferable. Want to learn more about committees? Read our resource on how to structure your board.
Well-structured and planned meetings are essential to getting the most from your board. If your board meetings could just as easily be accomplished through a written report or email chain, then you're missing the magic of what board meetings and leadership should be all about. Board meetings should be the place for the discussion, debate, and consideration that can't take place in a written report, and must be intentionally structured to make that happen. BoardSource recommends moving routine reporting and updates to a consent agenda and reserving meeting time for discussion of critical issues, concerns, and decision making.
Wonderful things can happen when a board is well structured and when its meetings are well orchestrated.
The following resources have been curated from BoardSource's community and member resources, questions raised by leaders within our network, and tried and true guides from the BoardSource library.
Quick Access:
Visual & Written Info
---
---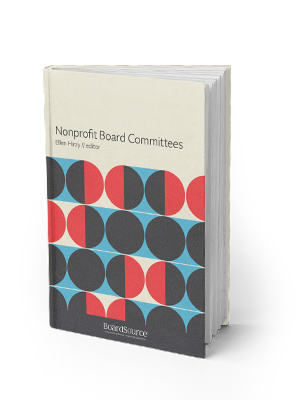 Nonprofit Board Committees: The essential new resource.
All the information you need to know about board structure, common standing committees, and advisory groups in one volume. This comprehensive book features BoardSource's current thinking, recommendations, and policies regarding board structure in clear and concise text for busy board members.
Guides, Tools, Templates, and Infographics
---
Written Resources
---
All 101-level topical resources listed below are available publicly. BoardSource members have access to 101, 201, and 301- level resources. Don't forget to visit the BoardSource store for more resources and training on this topic.