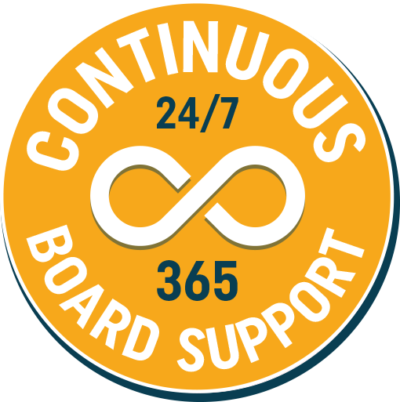 You're on an important mission. BoardSource is here to help you succeed.
BoardSource's nonprofit membership programs are designed to make it easy and affordable for you to access the information and support you need to be an effective leader, advance your organization's mission, and grow your impact. By participating in BoardSource's programs, nonprofit leaders and boards can avail themselves of board support throughout the year and enrich their governance knowledge.
Our Core Membership Program for Nonprofit Organizations: The Board Support Program
Through the Board Support Program for Nonprofits, organizations will receive continuous access to educational resources, a learning community of peers and governance experts, and a comprehensive board self-assessment, all available throughout the year. Like a change management program, the Board Support Program guides leaders to a path of success, identifies areas of opportunity, and lays out a strategy for success. Our program includes:
One Board Self-Assessment annually to help set board development priorities and motivate board members
Access to the immersive, on-demand program, Certificate of Nonprofit Board Education to learn fundamental nonprofit governance concepts
Ask-an-Expert email assistance to support your board development goals
Open access to BoardSource's comprehensive resources and the BoardSource Exchange online community for all your current board members and staff members
What Is a Nonprofit Membership Program?
A nonprofit membership program, like our Board Support Program, is a year-round service and support that an organization like BoardSource provides to help nonprofits, boards, and staff succeed. BoardSource believes in providing resources to help strengthen governance performance and practices while also learning from others in the sector. By participating in the Board Support Program, you will be empowered to embark on your nonprofit leadership development journey and join a community of nonprofit leaders.
Top Benefits of BoardSource's Nonprofit Membership Programs for Your Organization
Provides Year-Round Governance Guidance and Resources

Members have access to hundreds of downloadable resources on nonprofit best practices and topic areas
BoardSource Exchange is our online community that encourages collaboration and sharing of best practices with other BoardSource members, like you, who are committed to effective board leadership
Ask-An-Expert is our email service providing governance guidance to our members
BoardSource's newsletters, Resources + Solutions, and Smartbrief, deliver the latest nonprofit news and tools right in your inbox

Identifies Strengths and Weaknesses through Assessment Tools

Our signature Board Self-Assessment lays the foundation for setting board  development priorities and motivating board members to focus on what's critical for success
Other assessment tools like, the Assessment for Chief Executives (ACE), foster growth and development of your chief executive and benefits the board

Supports Your Board and Staff Leadership

You, your board, and staff can all access the on-demand Certificate of Nonprofit Board Education (complimentary for Board Support Program members), which covers fundamental governance and nonprofit concepts
Explore BoardSource's Membership Programs
BoardSource offers unique nonprofit membership programs to support and collaborate with organizations, federated networks, charter and independent schools, foundations, corporations, and individual leaders and consultants. Choose the level of support that is right for you.
How we support and work with nonprofit organizations, federated networks, charter and independent schools, foundations, corporations, and individual leaders and consultants.