No accounting degree required.
NEW EDITION: Financial Responsibilities of Nonprofit Boards
You don't need an accounting degree to help oversee your organization's financial situation. You do need an understanding of your fiduciary responsibilities. We've compiled everything you need to know into the new edition of Financial Responsibilities of Nonprofit Boards.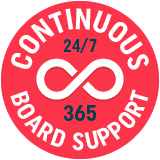 Board Support Program for Nonprofit Organizations
The Board Support Program, our core membership program, is designed for nonprofit organizations that are looking for year-round support, and for those who are committed to continued advancement, helping to strengthen their boards and missions. BoardSource offers additional membership programs for federated networks, foundations, corporations, schools, and individuals.
Assessing board performance is key to becoming a stronger board and building a constructive board–chief executive partnership.
Our experienced and highly respected team of consultants works with nonprofits, foundations, and corporations.
Our leadership certificate programs provide board members, chief executives, and consultants with information they need to succeed.