The support that BoardSource provides to individual nonprofit leaders and organizations is strengthened by our broader research work to identify and map trends within the nonprofit sector and to unleash the full potential of boards and board leaders to advance the public good through board service.
BoardSource is challenging itself to provide greater leadership to the sector by deepening our own understanding of board leadership and inspiring action on critical sector issues.
As the leader in nonprofit board leadership and governance, BoardSource occupies a unique vantage point and leadership role within the social sector from which to identify trends, opportunities, challenges, and solutions. We do this by going deep into the boardroom experience —  gathering data, making observations, and developing and rigorously testing and evaluating various approaches to strengthening governance — and then translating our learning into a call to action for boards across the country and around the globe.
Leading with Intent: BoardSource Index of Nonprofit Board Practices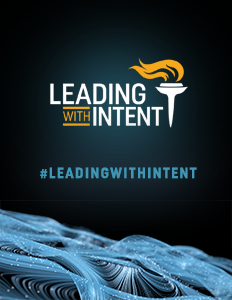 We have been conducting our signature study, Leading with Intent: BoardSource Index of Nonprofit Board Practices, biennially for more than 20 years. It provides important information about current board composition, practices, and performance and charts important trends and changes in board leadership.
Leading with Intent is the only survey to gather information from both chief executives and board chairs on their experiences in nonprofit boardrooms. Who serves on nonprofit boards? How are boards structured? What are their policies and practices? What challenges them? Are they providing the leadership needed? The answers to these and many more questions can be found in our most recent Leading with Intent report. And because BoardSource has been conducting a version of this survey approximately every two years since 1994, it also enables us to answer the question, How are nonprofit boards changing over time?
2017 Key Findings
Leading with Intent 2017
While there are some encouraging trends worth highlighting – most notably a significant expansion of board engagement in advocacy – the study also laid bare some disturbing truths: That we have made little progress when it comes to building more racially diverse boards.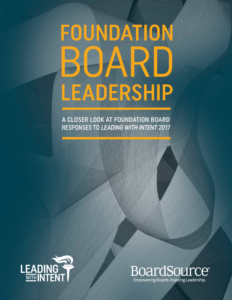 Foundation Board Leadership: A Closer Look at Foundation Board Responses to Leading with Intent 2017
In an effort to better understand the particular dynamics of foundation boards, BoardSource took a closer look at the subset of responses from the 141 foundation leaders who completed the Leading with Intent survey. While the sample of foundation responses is relatively small and a convenience versus representative or randomized sample, we believe the report provides insight that may be applicable to the foundation community more broadly. Download the report.
Strong, impactful board leadership is within our organizations' reach, but it will not happen on its own. We need to focus our energies and resources to support boards that are working to strengthen their performance, and we need to challenge those who have not set a higher bar for themselves and their missions.