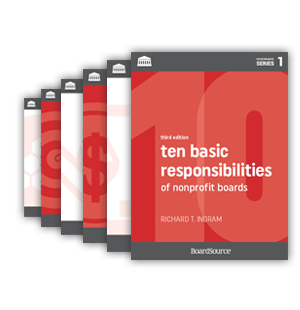 The Governance Series
The six books in this series address all the topics new and seasoned board members, as well as chief executives and senior staff, need to know about, including board member responsibilities, how to structure the board in the most efficient manner, and how to accomplish governance work in the spirit of the mission of the organization.
Our all-time bestseller and book one in this series, Ten Basic Responsibilities of Nonprofit Boards, explores the board's 10 core responsibilities and clarifies and distinguishes the board-staff partnership. This resource was updated in 2015 to include a deeper discussion of the role that advocacy plays in the responsibilities of nonprofit boards.
$92 members | $152 nonmembers