Board education should be an ongoing effort that builds on an effective, formal orientation program and is informed by regular board self-assessment.
Continuous — and collective — learning opportunities will help deepen your board members' understanding of their roles and responsibilities and of your organization and the environment in which it operates, which, in turn, will increase their effectiveness and value to your organization.
Unfortunately, orientation and board education are often overlooked and underused practices. According to Leading with Intent, only 66 percent of chief executives and 77 percent of board chairs agree or strongly agree that their board orientation is effective. Other board development activities are less common. While 66 percent of organizations use written resources to educate board members, more interactive educational activities — such as trainings, seminars, and webinars — are far less common.
By investing time and resources in board education, you will be able to deepen your board members' commitment to your organization, strengthen their understanding of the board's role, and cultivate a culture of ongoing board improvement. BoardSource recommends all boards formalize a new member orientation process, build educational activities into board meetings, schedule retreats for exploration of complicated issues, and support ongoing learning by providing their members easy access to information about board leadership and governance.
Highlighted Resource
Certificate of Nonprofit Board Education
The Certificate of Nonprofit Board Education, a governance education program, provides a comprehensive overview of the major building blocks of an effective board. The program covers fundamental nonprofit governance concepts every nonprofit leader should understand and is ideal for new and potential board members, staff and consultants who are new to working with a board.
Learn more about the certificate program
Visit the BoardSource store for more resources on this topic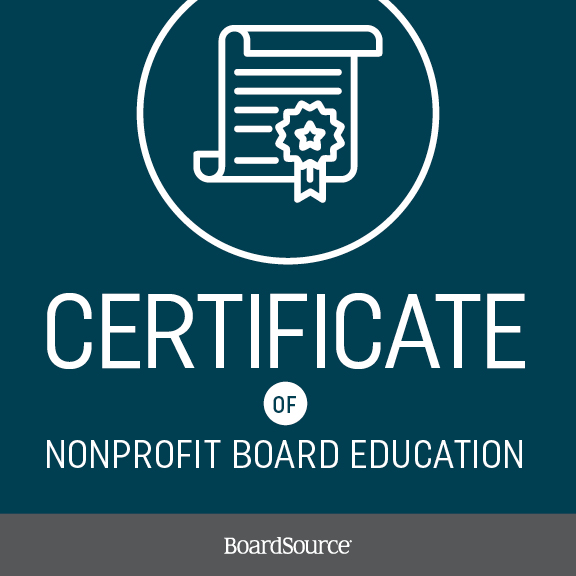 Community and Member Resources
All 101-level community resources listed below are available publicly. BoardSource members have access to 101, 201, and 301-level resources. Don't forget to visit the BoardSource store for more resources on this topic!