Are you new to nonprofit leadership or taking on a new leadership role? 
---
An important first step to making sure you have the knowledge and skills necessary to make an immediate and sustained contribution to your nonprofit organization, is to take a BoardSource Leadership Certificate program.
BoardSource is currently offering the following certificate programs as either on-demand or live trainings (choices vary by program topic and are highlighted below).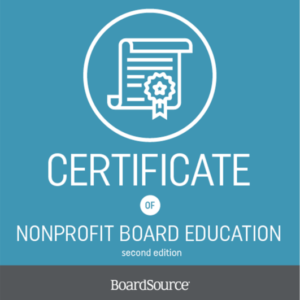 Certificate of Nonprofit Board Education, Second Edition
Available On-Demand Only
BoardSource's board education program is for new and potential board members; staff and consultants who are new to working with a board; and others who want to understand the major building blocks of an effective board. All participants receive a copy of the Governance Series to supplement the training on fundamental nonprofit governance concepts, which includes board structure and practices, the roles and responsibilities of board members, and financial and legal oversight.