Certificate of Nonprofit Board Consulting (CNBC)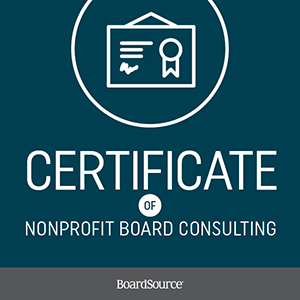 This program for nonprofit consultants is designed to better meet the ongoing need for governance training among nonprofit organizations.
This intense course is designed for nonprofit consulting professionals and for those currently pursuing a career in consulting. Due to the high-level nature of this certification course, participants should have a working knowledge of the basic tenets of nonprofit governance. Under the current circumstances, we are offering the CNBC as a virtual course.
The course features core curricula that will give nonprofit consultants the tools needed to address important and sometimes tough conversations that happen in the boardroom. The course facilitator and participants will discuss techniques that BoardSource has found most effective in working with boards while weaving in high-level nonprofit governance concepts, case studies, group work, and current nonprofit trends for a robust and fast-paced three days.
Upon successful completion of this course, participants will receive the BoardSource Certificate of Nonprofit Board Consulting, as well as an individual BoardSource membership and additional publications that can be accessed after logging into the My Account section of the website. 
The goal of this course is to help ensure the nonprofit sector has the governance trainers that it needs. This course is separate from our Certified Governance Consultants Directory and does not automatically lead to your inclusion in this directory. Boardsource is not currently taking proactive outreach for directory consultants.

The training dates for 2022 are sold out. Join the waitlist to be notified of future CNBC trainings!