Certificate of Nonprofit Board Consulting (CNBC)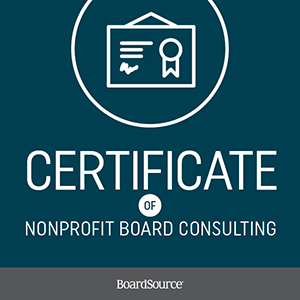 This program for nonprofit consultants is designed to better meet the ongoing need for governance training among nonprofit organizations.
This intense course is designed for nonprofit consulting professionals and for those currently pursuing a career in consulting. Due to the high-level nature of this certification course, participants should have a working knowledge of the basic tenets of nonprofit governance. Under the current circumstances, we are offering the CNBC as a virtual course over five half-day sessions.
The course features core curricula that will give nonprofit consultants the tools needed to address important and sometimes tough conversations that happen in the boardroom. The course facilitator and participants will discuss techniques that BoardSource has found most effective in working with boards while weaving in high-level nonprofit governance concepts, case studies, group work, and current nonprofit trends for a robust and fast-paced three days.
Upon successful completion of this course, participants will receive the BoardSource Certificate of Nonprofit Board Consulting and an annual membership to BoardSource as an individual member.
Join the WaitlistSample Agenda
View our training calendar for the next Certificate of Nonprofit Board Consulting course.