Certificate of Nonprofit Board Consulting (CNBC)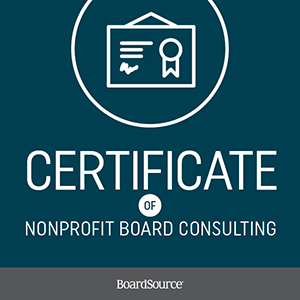 This program for nonprofit consultants is designed to better meet the ongoing need for governance training among nonprofit organizations.
A fast-paced, three-day virtual course designed to give nonprofit consultants the tools needed to address important and sometimes tough conversations that happen in the boardroom. The course facilitator and participants will discuss techniques that BoardSource has found most effective in working with boards while weaving in high-level nonprofit governance concepts, case studies, group work, and current nonprofit trends for a robust and fast-paced three days.
To register for one of the next available 2023 training dates, please click below to select the training you would like to attend. Registration is limited, so be sure to secure your spot today! Read our cancellation policies here.
Don't see a date that works for you? Join the waitlist to be notified of future CNBC trainings!