Given the tremendous responsibility and decision-making power of boards, and the length of most board members' tenures, making sure you have the right composition of leaders on your board is absolutely fundamental.
As any effective leader knows, making sure you have the right people on your team is absolutely fundamental. For boards, this is no less important, particularly given the tremendous responsibility and decision-making power that boards have, and the length of most board members' tenures. There's no question about it: Without the right people around the table, it is difficult for any board to provide effective leadership.
So what does it take to build and maintain a strong and effective board? According to Leading with Intent, the most successful boards are thoughtfully composed as it relates to skill sets, leadership styles, and diversity of thought and background. They understand the leadership needs of their organizations and seek out board leaders who can bring the expertise, passion, and external leadership that they need both now and into the future.
For many boards, that starts with a board matrix — an inventory of the perspectives, skill sets, and leadership characteristics that are needed for the board overall, and where there are — or will be — gaps, based on the board's current composition. This inventory includes having a thoughtful discussion of whether or not the board reflects the diversity of the community it serves and, if not, the signal that sends to the external world about who your organization is and what it values. BoardSource cautions boards, however, from using a "checklist" approach to board recruitment, especially when it comes to board diversity. No board candidate should be reduced to a demographic profile, and boards are wise to think about holistic and multi-faceted leadership profiles that value diversity within the context of other stated leadership needs.
Visit the Board Recruitment Center for more resources.
Highlighted Resource
Strategic Board Recruitment & Development Educational Seminar
This seminar is ideal for any board that is looking to be more strategic about the way that it identifies, cultivates, recruits, and prepares potential members. Facilitated by a BoardSource Certified Governance Consultant, the seminar provides board members with an understanding of the central role that strategic board recruitment plays in building an effective board as well as the tools to engage new potential board members in a way that sets them up for successful board service
Visit the BoardSource store for more resources on this topic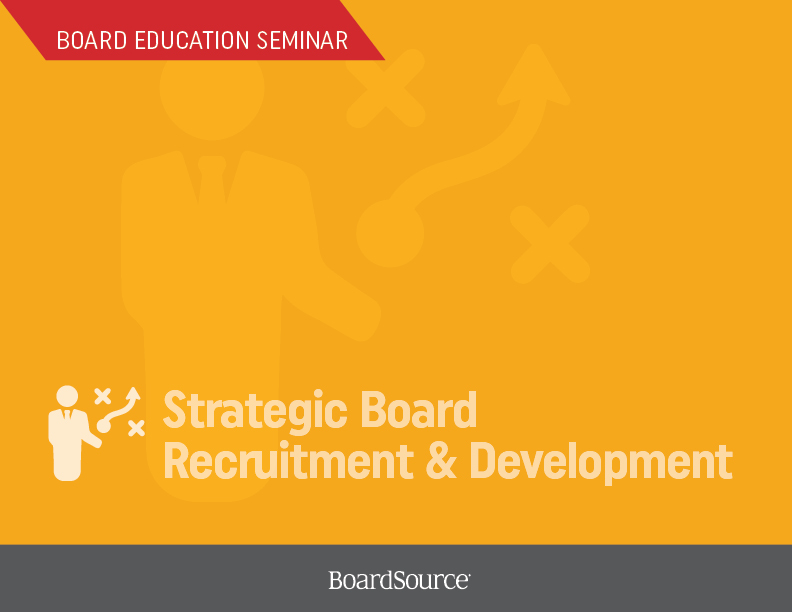 We've curated the following resources to help you start thinking about what strategic board composition and recruitment look like for your organization.
You'll find more in our Board Recruitment Center.
Community and Member Resources
All 101-level community resources listed below are available publicly. BoardSource members have access to 101-, 201-, and 301-level resources. Don't forget to visit the BoardSource store for more resources on this topic!