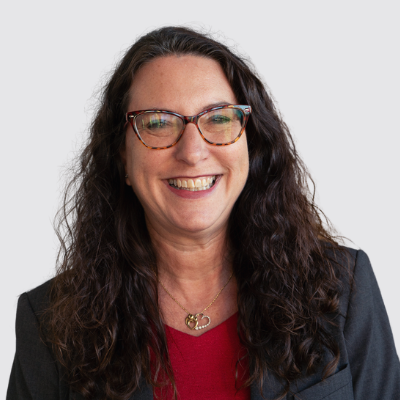 Dani Robbins
Director of Governance Strategy
As the Director of Governance Strategy, Dani leads the educational strategy for BoardSource, focused on developing and delivering relevant and engaging educational programs and products that strengthen board leadership functions and practices. Dani works across teams to ensure that BoardSource's offerings are aligned with the organization's leadership priorities, research findings, and sector-wide leading practices.  She oversees the design, development, implementation, and evaluation of educational programs, including the Board Support Program, BoardSource's core board development program.
Prior to joining BoardSource, Dani served as the Director of the Nonprofit Administration graduate programs at John Carroll University where she taught nonprofit governance, leadership and management. She also founded and led Non Profit Evolution, a consulting firm providing nonprofit governance, strategy, and coaching services.
Her education includes a Master's Degree in Public Administration from the Levin College of Urban Affairs at Cleveland State University, and a Bachelor's from Kent State University. She is also a graduate of Leadership Akron Class 22 and the Boys & Girls Clubs of America's Advanced Leadership Program, offered in conjunction with the University of Michigan's Ross School of Business.
Dani has served as the chief executive of two domestic violence shelters/rape crisis centers and two Boys & Girls Clubs, and introduced the Women's Coalition – the prelude to the Women's Center – at Case Western Reserve University.
Dani received the Vision and Spirit Award from Boys & Girls Clubs of America in 2006 and was included as a Notable Women in Nonprofits by Crain's Cleveland Business in 2019.
Dani is also a speaker and trainer, the co-author of the Innovative Leadership Workbook for Nonprofit Executives, the author of a blog on issues relating to nonprofit organizations, and formerly a Network for Good fund raising coach, the nonprofit expert on answers.com and an instructor at the John Glenn College of Public Affairs at The Ohio State University.
Advancing social justice is her life's work.