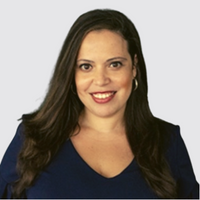 Stella Ford
Associate Vice President, Foundation Relations
As Associate Vice President of Foundation Relations, Stella Ford builds and strengthens philanthropic relationships with BoardSource foundation partners. Through generous grants, as well as The Partnership for Effective Board Leadership, foundations provide meaningful support for BoardSource, fueling our mission to inspire and support excellence in nonprofit governance and leadership.
Stella is a Washington D.C. native who is passionate about philanthropy and the arts. She held previous roles at the John F. Kennedy Center for the Performing Arts, Smithsonian National Air and Space Museum and Miami City Ballet. Most recently, Stella was the Director of Development at the Museum of Contemporary Art North Miami (MOCA). Her experience working in close partnership with nonprofit boards has provided valuable perspective on governance and leadership.
Stella holds a Bachelor of Arts in Communication Studies from the University of Maryland and a Master of Arts in Arts Management from George Mason University.