We Serve…
BoardSource's global network of leaders represents a broad and diverse cross-section of the social sector. We are committed to providing support that is relevant and accessible to organizations of every size, stage, geography, and programmatic focus.
We are especially proud to be working in partnership with individuals and organizations that share our belief in the power of nonprofit organizations and leaders to advance the public good and that are working to create positive change in their communities and our world more broadly.

We Are…
BoardSource is a national organization working to strengthen nonprofit board leadership. We are fortunate to be led by a diverse and experienced board of directors with a passion and dedication to our mission as well as by our respected CEO and president, Anne Wallestad. Together, they model the exceptional board-staff partnership and provide the strategic leadership that we encourage and inspire in nonprofit boards and leaders.
In 2016, BoardSource was named a Drucker Prize finalist as well as one of The Nonprofit Times Best Nonprofits To Work Top 50. These accomplishments are a testament to our hardworking and innovative staff — a team of professionals who truly believe "your mission is our mission."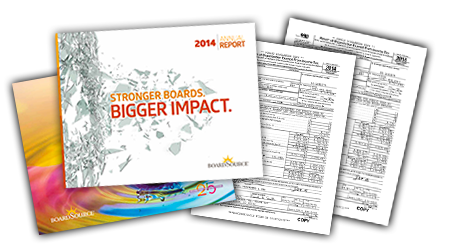 Providing Leadership & Learning
The support that BoardSource provides to individual nonprofit leaders and organizations is strengthened by our broader work to identify and map trends within the sector and to unleash the full potential of boards and board leaders to advance the public good through board service. We have been conducting our signature study, Leading with Intent, biennially for the past 20 years. It provides important information about current board composition, practices, and performance and charts important trends and changes in board leadership.
Other leadership initiatives focus on opportunities and challenges within the sector where we believe board leaders are positioned to make a difference, whether that's through greater transparency, stronger board advocacy, or more strategic and diverse board composition.