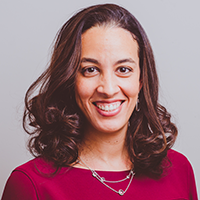 takita battle
Director of Corporate & Federated Partnerships
As director of corporate and networked partnerships, Takita Battle is responsible for BoardSource's corporate and networked membership program — a program designed to support companies in their efforts to incorporate nonprofit board service into their broader corporate social responsibility strategies and support networked nonprofits to support board development to the organization's headquarters and entire network. She is responsible for identifying, cultivating, and stewarding relationships with new and existing partners to leverage BoardSource as the go-to organization and thought-leader in nonprofit governance.
Takita brings 20 years of both for-profit and nonprofit management and leadership experience to BoardSource. She possesses an in-depth knowledge of corporate and nonprofit strategy, to lead organizational growth and greater corporate and networked member engagement. Before joining BoardSource, she served as the director of development at Paul Public Charter School (Paul PCS), where she led the fundraising, marketing, family recruitment, and communications strategy for the organization in collaboration with its chief executive and board of trustees. Prior to Paul PCS, Takita was the director of corporate relations at United Negro College Fund, working closely with its corporate scholar programs and other national initiatives. Beginning her career in the special events and publishing industry, Takita worked in sales with Noelle-Elaine Media, Inc., Katz Radio Group, Black Enterprise magazine, and Working Mother Media, which included Diversity Best Practices, National Association of Female Executives (NAFE), and Working Mother magazine. 
Takita earned a bachelor's degree in print journalism with a minor in fine arts from Hofstra University and completed a certificate of nonprofit management executive program at Georgetown University. She is a member of Hofstra's Women in Leadership, member and past president of the Black/Hispanic Alumni Association, a life member of Delta Sigma Theta Sorority, Incorporated, DC Scores tri-chair of the Racial Equity Taskforce and member of the governance committee. In addition to her organizational involvement, she loves to read, cycle, travel, volunteer, and spend quality time with her husband, daughter, and son.