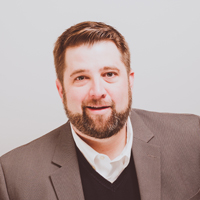 Andy Davis
Associate Vice President of Member Education & Outreach
As BoardSource's associate vice president of member education and outreach, Andy Davis leads a team that is responsible for developing all of BoardSource's educational resources, including member education resources, training programs, publications, and educational content for the BoardSource Leadership Forum. Andy also oversees BoardSource's external marketing and outreach efforts. He is a regular speaker and presenter on a wide range of board leadership topics and issues and played a lead role in the development of BoardSource's frameworks for Measuring Fundraising Effectiveness and Purpose Driven Board Leadership.
Prior to joining BoardSource in 2008, Andy served as a professional development coordinator for Quality Enhancement for Non-Profit Organizations (QENO) in Wilmington, North Carolina. He holds a master's degree in public administration with a concentration in nonprofit management from the University of North Carolina at Wilmington.
Andy currently serves on the board of Our Minds Matter, previously served as the chair of the national advisory council of AmeriCorps Alums, and is a charter member of the selection committee for the Center for Nonprofit Advancement's Board Leadership Awards.