The largest convening of nonprofit board members, chief executives, staff, and other nonprofit professionals. 
Join us as we revisit what it means to be purpose-driven leaders, reimagine what is possible for our missions, and come together to uncover the power of advancing the public good for the communities we serve. Bigger, bolder, and armed with the support of a passionate sector, BLF2020 promises to be an unforgettable experience. We're just getting started.
BLF2020 • May 7+8, 2020 • St. Louis, Missouri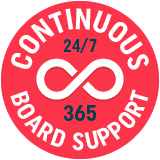 Board Support Program for Nonprofit Organizations
The Board Support Program, our core membership program, is designed for nonprofit organizations that are looking for year-round support, and for those who are committed to continued advancement, helping to strengthen their boards and missions. BoardSource offers additional membership programs for federated networks, foundations, corporations, schools, and individuals.
Assessing board performance is key to becoming a stronger board and building a constructive board–chief executive partnership.
Our experienced and highly respected team of consultants works with nonprofits, foundations, and corporations.
Our leadership certificate programs provide board members, chief executives, and consultants with information they need to succeed.
Please Note: The BoardSource offices will be closed from December 23, 2019 through January 1, 2020.
Orders placed will be filled on January 2.