Mirror, Mirror on the Wall: Should I Serve on this Board After All?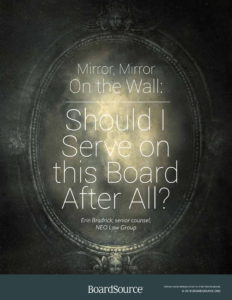 The vast majority of volunteer board members agree to serve on a nonprofit board for all the right reasons. However, sometimes, a board member may find that, for whatever reason, he or she is no longer contributing to the organization in a valuable and important way.
This resource includes lists of questions board members should consider asking themselves annually to ensure the fit with the nonprofit is still right as well as important next steps if a board member does decide to part ways with the nonprofit.
Written by Erin Bradrick, senior counsel, NEO Law Group