The Power of Possibility: Exploring Greater Impact through Strategic Partnerships
---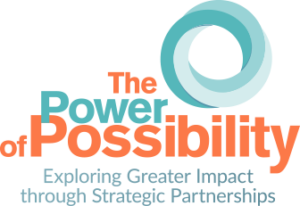 As nonprofit board and staff members, we are given a tremendous responsibility. As leaders of our organizations, we are responsible for keeping our organizations strong. We are empowered with decision-making responsibility that will impact our organization's work long into the future. And we are entrusted with ensuring that we are putting our core purpose and those who depend on us first.
Initiated by BoardSource and leaders in the field of nonprofit restructuring, The Power of Possibility campaign encourages nonprofit leaders to ask themselves: How could our efforts be accelerated and amplified? One possible answer: Together.
---
"We are inviting nonprofit leaders to think big about how their missions and impact can be strengthened by coming together for a common purpose. We believe that board members can play a powerful and visionary role in making this happen."
Anne Wallestad, former BoardSource president and CEO
---
Report on Board Openness to Strategic Alliances & Restructuring
BoardSource – with input from its programming partners on the initiative – conducted several surveys to benchmark current attitudes and behaviors related to strategic alliances and restructuring.
Download the full report, and learn more about important insights from the research in this article from The Chronicle of Philanthropy.
About the Initiative
The Power of Possibility initiative provides nonprofit leaders with new resources and tools to help guide board discussions about the possibility of strategic alliances and restructuring. It walks you through key questions for consideration, whether in a particular moment of inflection, or a broader conversation about the benefit of strategic partnerships. And it connects you with additional resources and powerful case studies that can be helpful as exploration begins, and continues.
We invite you to think about the power of your possibility. To take time to reflect on your core purpose as an organization — what you are trying to accomplish — and how those broad goals may be aligned with other organizations. We believe that conversations about strategic alliances and restructuring can, and should, play an important role in the way nonprofit leaders are thinking about the future of their organizations.
The Power of Possibility campaign is a joint effort of BoardSource, The Bridgespan Group, La Piana Consulting, The Lodestar Foundation, Lyda Hill, MAP for Nonprofits, and The Patterson Foundation, with additional support from the C.S. Mott Foundation and The Trustees' Philanthropy Fund of Fidelity Charitable. Download free resources to guide nonprofit board conversations about strategic alliances and restructuring at thepowerofpossibility.org.