We live in a time in which major issues within the social sector or society at large — complex and nuanced issues — often emerge with little warning and gain momentum quickly, impacting nonprofits in unforeseen ways.
When this happens, those at the helm of the organization — its board leaders — need to step in and address these issues in the present or prepare for the possibility of addressing them in the relatively near future. BoardSource believes that those boards that are diverse in their backgrounds, ethnicities, and experiences; inclusive in their cultures; and equity-focused in their awareness of the societal ecosystems in which they operate are best prepared to do this work.
To shine a spotlight on emerging issues and help boards facing the challenge of responding to them, we have developed "conversation starters" on various topics as they have emerged. They include "reflection questions" and background articles for your board's consideration.
There are several benefits to conversation starters, including the following:
They provide ongoing opportunities to assess your organization's vision, mission, and values and determine if they stand up to the test presented by the issue at hand.
They offer real-time opportunities for your board members to share their perspectives and viewpoints and, by doing so, learn more about their similarities — and, just as importantly, about their differences.
They build up your board's "muscle" for decision making on complex issues by "exercising" its critical thinking skills and making informed decisions based on inputs from diverse perspectives.
They allow your board to apply a "big picture, purpose-driven" leadership perspective to its work, rather than act solely in the interests of the organization. We encourage your board to view conversation starter topics through this lens.
We will be adding conversation starters and tools to this page on an ongoing basis as issues emerge in the social sector. We hope they enable your board to have the important conversations it should be having now and in the future.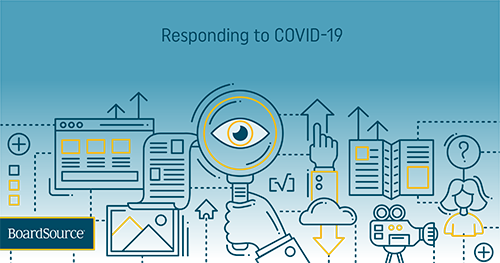 Featured Resource
---
How Nonprofits and Board Members Can Respond to COVID-19
The COVID-19 pandemic is more than just a health crisis — it has had a ripple effect, impacting everyone and everything. As the world responds to this new threat, many nonprofits are struggling with how to help their communities while also trying to survive themselves.
BoardSource is committed to supporting board and staff leaders during this trying time. We compiled common questions our Ask-the Expert team has received along with their answers and accompanying resources.