The partnership between the board and the executive leader is critically important to the success of an organization.
A strong and healthy board-staff partnership provides flexible and resilient leadership that contributes positively to the organization's overall impact. A weak or dysfunctional partnership impedes the effectiveness of both the board and the executive, and puts the organization at risk in a number of ways – lack of strategic alignment or direction, executive turnover, a toxic organizational culture; the list could go on and on.
To cultivate the trust, respect, candor, and communication that characterize a healthy partnership between a board and staff, BoardSource recommends a number of key practices, including the following:
Regular check-ins between the executive and chair. Open and consistent communication channels between the executive and the board chair help build a strong working relationship and surface issues and challenges before they get bigger.
A commitment to "no surprises." For both the executive and the board, it's important to share openly and honestly, including when there's bad news. This is especially important between the executive and the chair, who set the tone for the relationship between the executive and the board as a whole.
Thoughtful reflection on performance. One of the board's essential responsibilities is to annually evaluate the executive's performance and provide honest feedback on successes and challenges. Equally important, however, is that the board assesses its own performance. In addition to helping strengthen board performance, it demonstrates the board's commitment to shared leadership and responsibility.
HIGHLIGHTED RESOURCE
Board-Staff Partnership Education Seminar
Board-Staff Partnership: How to Share Leadership and Get Results seminar is designed for nonprofit leaders who are working to deepen and strengthen the board-staff partnership to get results through shared leadership. Educational seminars are facilitated by a BoardSource Certified Governance Trainer and provide an opportunity for boards to come together to gain insights and create a strong foundation for positive organizational culture.
Visit the BoardSource store for more resources on this topic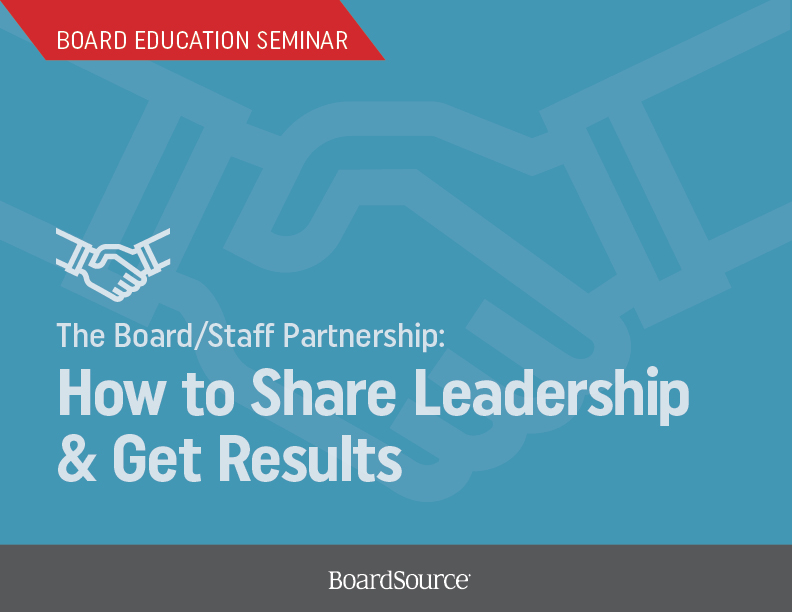 The resources listed below provide guidance on how to develop and maintain meaningful and results-oriented board chair–executive, board–executive, and board–staff partnerships, as well as how to navigate thorny issues such as micromanagement.
Community and Member Resources
All 101-level community resources listed below are available publicly. BoardSource members have access to 101-, 201-, and 301-level resources. Don't forget to visit the BoardSource store for more resources on this topic!