In addition to our core offering for nonprofits, BoardSource has developed custom chief executive assessment tools for associations and heads of school to meet the unique needs of specific sectors.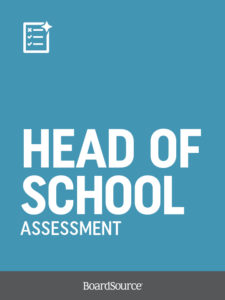 Head of Independent School Assessment
BoardSource developed its head-of-school assessment tool to assist independent schools in assessing the performance of the head of school. The purpose of this tool is to provide insight into the board's perception of the head's strengths, limitations, and overall performance and to foster the growth and development of the head of school and the school.
$699 Board Support Program Members | $899 Individual Members | $1,199 Nonmembers
Association Chief Executive Assessment
BoardSource — the leader in nonprofit governance — has collaborated with ASAE: The Center for Association Leadership — the premier voice of the association world — to create a chief executive assessment that is geared to the unique needs of the association sector. Developed by key volunteer committees from each organization, the customizable assessment tools lets the board list up to nine performance goals specific to the needs of the chief executive and the association and includes opportunities to provide detailed insights into four key areas: annual performance goals, core competencies, personal leadership qualities, and accomplishments and challenges. Some associations invite senior staff to complete the evaluation survey.
$699 Board Support Program Members | $899 Individual Members | $1,199 Nonmembers