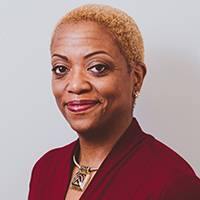 vernetta walker
Vice President,
Programs & Chief Governance Officer
Vernetta Walker, JD, has worked with many national and international nonprofit organizations addressing a wide range of governance issues, from restructuring complex entities to implementing exceptional governance practices. Vernetta leads BoardSource's diversity, inclusion, and equity (DI&E) work to help nonprofit boards successfully develop and integrate inclusion strategies. She also is a frequent speaker on DI&E, as well as effective board engagement for impact. Her clients have included the Smithsonian National Museum of the American Indian, YMCA of the USA, The National Aquarium, Corporation for Public Broadcasting, Independent Sector, and National Council of La Raza.
Vernetta brings a broad depth of knowledge and expertise to BoardSource. She practiced law in Orlando, Florida, for several years, served as associate general counsel for the Maryland Association of Nonprofit Organizations, was foundation advocacy counsel at the Alliance for Justice, and director of the Administration of Justice Grants Program for the Florida Bar Foundation.
Vernetta is an adjunct lecturer in the masters of nonprofit management degree program at Columbia University School of Professional Studies. She is also a faculty member of NeighborWorks America and received its Kenneth Jones/Tony Austin Excellence in Training Award. She is a contributing author to Nonprofit Management 101: A Complete and Practical Guide for Leaders and Professionals, a Jossey-Bass publication (2011), and Investing in Change: A Funder's Guide to Supporting Advocacy, an Alliance for Justice publication (2004). Vernetta has served on several boards, including Planned Parenthood, Lynx (Orlando's regional transportation authority), and the Paul C. Perkins Bar Association. She received a JD degree from the Washington University School of Law, St. Louis, Missouri, and a BA degree from the University of Maryland, College Park, Maryland.