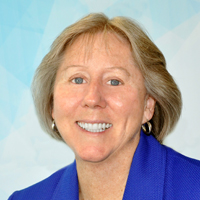 Susan decker
Senior Governance Consultant, BoardSource
In addition to serving as a BoardSource senior governance consultant, Susan Decker serves as the director of the Master of Leadership Development program at Saint Mary-of-the-Woods College, working with financial, nonprofit, and organizational professionals in their educational journey of developing and expanding their leadership skills. She has more than 20 years of nonprofit management and leadership experience, currently working with nonprofit organizations on exceptional governance practices, fundraising, board development to increase engagement, and strategic planning.
For more than ten years, Susan worked with two of the country's most recognized public charities; St. Jude Children's Research Hospital and Susan G. Komen Breast Cancer Foundation. At St. Jude, she served as executive director of field operations, with fundraising responsibility and oversight of $150 million and a staff of 200. Her work also extended to guiding the local boards and assisting with the professional advisory board and the sports council. In her role at Komen, she served as the national director of the affiliate network, where she was responsible for the governance training and compliance of more than 100 local governing boards. She additionally served as the national director of the Race for the Cure, the world's largest 5K run/walk series, with fundraising oversight for the affiliate field. Susan has worked with client organizations that have a diversity of missions, sizes, and geographic scopes. She works collaboratively with the board and staff to facilitate growth opportunities for the organization.
Susan currently serves as chair of the governance committee and vice-chair of a foundation board.