Nonprofit Founder Departures – Five Challenges; Five Novel Solutions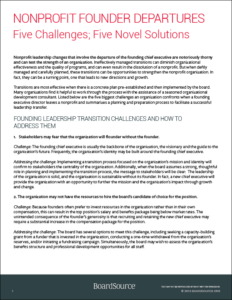 Nonprofit leadership transitions that involve the departure of the founding chief executive are notoriously thorny and can test the strength of an organization.
Ineffectively managed nonprofit founder departures can diminish organizational effectiveness and the quality of programs, and can even result in the dissolution of a nonprofit. But when deftly managed and carefully planned, these transitions can be opportunities to strengthen the nonprofit organization. In fact, they can be a turning point, one that leads to new directions and growth.