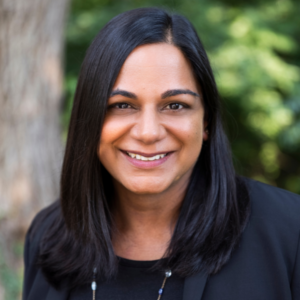 MONIKA Kalra VARMA
President & CEO
Monika Kalra Varma has dedicated her over twenty-year career to advancing human rights in the United States and abroad.  Most recently, she served as the Executive Director of the Lawyers' Committee for Civil Rights of the SF Bay Area (LCCRSF), the oldest civil rights institution on the West Coast. Monika and her team partnered with BIPOC communities to advance racial, immigrant and economic rights. Key victories, included, the repeal of an unconstitutional loitering ordinance in Oakland, a federal court ruling protecting immigrant youth in California, a permanent injunction against inhumane conditions in U.S. Customs & Border Patrol detention facilities in Arizona, and legalization of public banking in California. She led an organizational transformation at every level – LCCRSF's staff size nearly tripled, revenue doubled, and the organizational culture transformed to center staff well-being.
As the Director of the Center for Human Rights at the Robert F. Kennedy Center for Justice & Human Rights (RFK Center), Monika and her team partnered with social movement leaders around the world and in the United States. Their groundbreaking strategies and advocacy campaigns advanced movements to ensure a right to health in Haiti, end untouchability in India, rebuild the Gulf Coast after Katrina, and end sexual violence in Darfur.
Monika also served as the Executive Director of the D.C. Bar Pro Bono Center, the largest provider of pro bono legal services in the District of Columbia serving 20,000 individuals, nonprofit organizations and small businesses. In addition, Monika was one of four members of the D.C. Bar's executive team, setting the strategic direction and policies for an organization of over 100,000 members.  Monika began her legal career as an associate legal officer with the Office of the Prosecutor at the U.N. War Crimes Tribunal for the former Yugoslavia.
Monika leads with love in everything she does and her leadership tools and strategies are rooted in this approach. Monika and her husband find their greatest joy in raising their thirteen-year-old daughter and 9-year-old twin boys.
Read the press release announcing Monika's appointment. Monika will assume the role of President and CEO on August 15, 2022.