Lay the foundation for strong and consistent governance through clinics that can be customized to address your organization's specific needs.
Providing quarterly governance training opportunities focused on a range of topics at varying levels of complexity illustrates a commitment to supporting your affiliates or grantees, and to good governance overall. It builds credibility and trust for deeper relationships, facilitates candid and honest communications, and often creates space to surface challenges and opportunities. And these deeper relationships are not just between individual affiliates and the national office; educational training opportunities that are open to all of your affiliates or grantees encourage peer learning and networking, create a collaborative network atmosphere that adds to organizational sustainability. Additionally, governance training helps soften power dynamics, which becomes especially valuable if, and when, network-wide changes need to be instituted or sensitive topics must be broached with individual affiliates or grantees.
How it Works
---
Over the course of its almost 30-year history, BoardSource has designed and delivered countless governance clinics to audiences of various sizes and mission areas. These clinics can be broad in nature and lay a foundation for strong and consistent governance or dive deeper into topics that address a network's or grantees' specific needs — needs that can be identified through a governance index. If your organization hasn't conducted a governance Index in the recent past, BoardSource can administer a short online survey in its place to identify your network's needs, pain points, and desired governance training topics for each quarterly clinic.
BoardSource will create four customized training curricula based on the needs and objectives identified by your audience. Exact topics, formats, and audiences will be determined in the curriculum development stages of the project. Where applicable, the training series will begin with an introductory 101-level training session designed for the full audience, followed by 201-level interactive sessions by role and experience level. All trainings require a minimum of 10 attendees, with a maximum audience of 75 attendees.1
Sample Quarterly Governance Clinic Calendar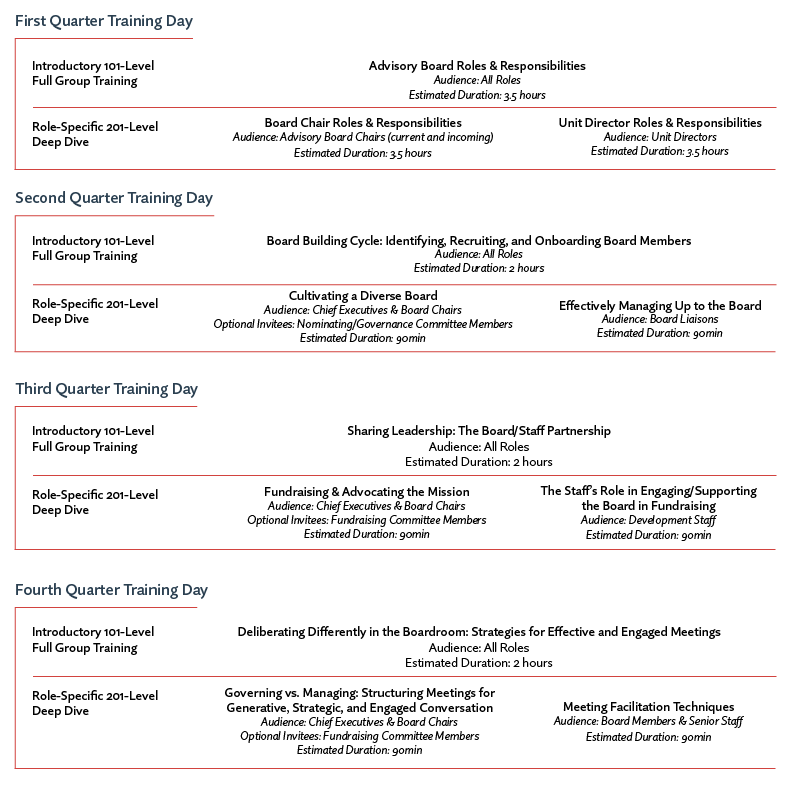 Starting the conversation is easy and there is no commitment required. Begin customizing your training calendar today.
---
Networked Nonprofits  Foundations
Through our experience, BoardSource has found that in-depth training programs surface individualized prioritized areas of growth and change, which will vary widely from nonprofit to nonprofit. To encourage and facilitate growth and development in these areas between training days, BoardSource highly recommends an organizational membership for networked nonprofits to provide your affiliates with unlimited access to a vast array of resources and information. In addition to providing resources aligning to each organization's individualized needs, access to consistent and foundational governance resources allow participants to connect around newly evolving sector trends and learn from mutual and/or peer experiences — both between trainings and following program completion.
Foundation members of the Partnership for Effective Board Leadership may access this program for their grantees for $1,000 per organization.
---
1 Larger audience sizes can be accommodated, but will require additional consultants to manage interaction and ensure the best experience possible for all attendees. Adding additional consultants will impact the overall project budget.