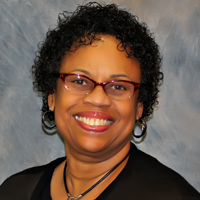 Vicki clark
Senior Governance Consultant, BoardSource
Based in Memphis, Tennessee, Vicki Clark has extensive experience as both a nonprofit leader and consultant. She has delivered training on a variety of nonprofit governance topics to a broad range of organizations, including Boys and Girls Clubs, American Institute of Graphic Arts, Association of Professional Chaplains, Allen County Public Library, and Sangamon County Community Foundation, among others.
Vicki also has her own consulting practice in which she helps build the capacity of nonprofit, government, faith-based, and business sector organizations through training, speaking, writing, and consulting. In this capacity, Vicki has worked with the Leader to Leader Foundation (formerly The Peter F. Drucker Foundation), Northwest Regional Educational Laboratory, Prevent Child Abuse America, Association of Junior Leagues International, Association of African American Museums, Literacy USA, and others.
Prior to her work as an independent consultant, Vicki filled several roles at The Points of Light Foundation in Washington, DC, including vice president of community initiatives, volunteer services, and external relations. She created and executed the foundation's strategy with multiple markets and various segments of the volunteer sector. She also has worked on staff with the National Volunteer Center, the Volunteer Center of the Texas Gulf Coast, the Houston Metropolitan Ministries, Foodmaker, Inc., and others. Vicki also has experience in the corporate sector specializing in human resources and publishing.