The success of BLF depends largely on our presenters and their ability to create thought-provoking sessions that help nonprofit leaders tackle important governance and leadership challenges and seize opportunities. We expect our attendees to leave the conference motivated for action.
Application deadline: April 10, 2017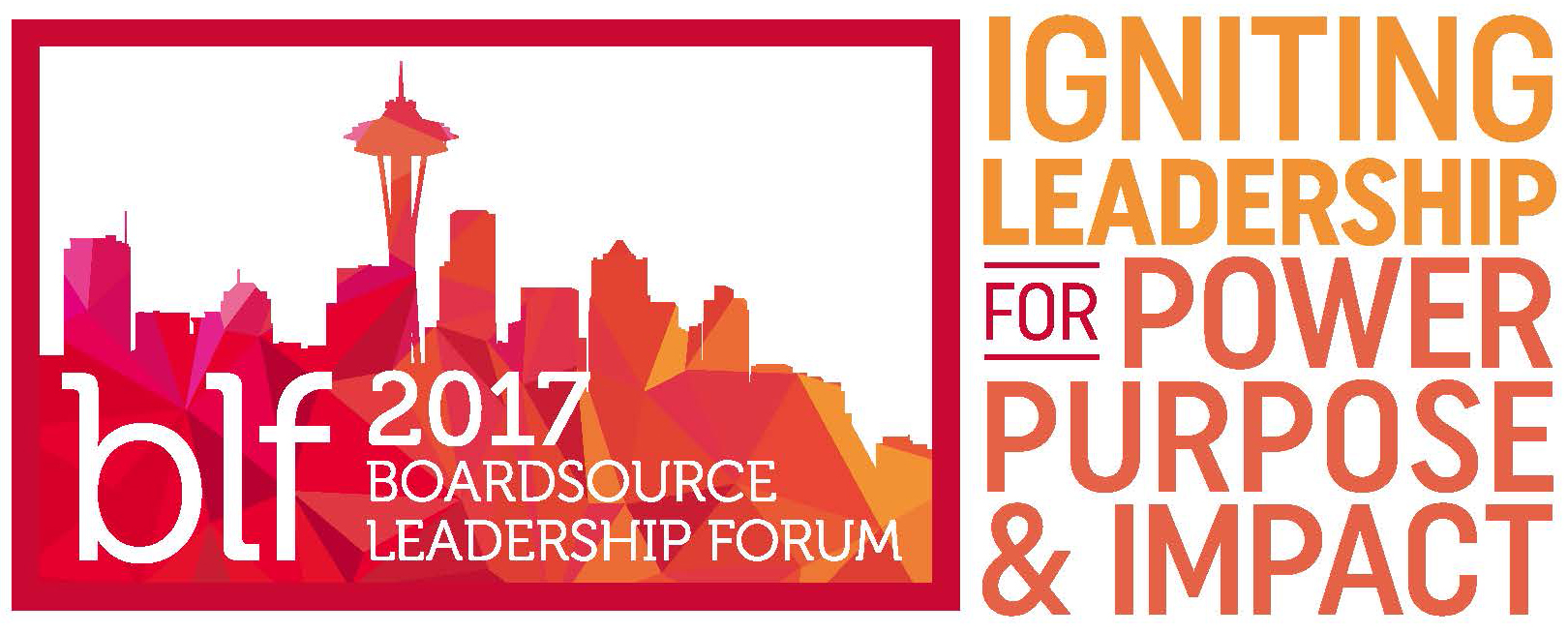 Igniting Leadership for Power, Purpose, and Impact embodies our commitment to nonprofit leaders' role as standard-bearers for their organizations. We believe that together, board members and chief executives can develop nonprofit organizations that are not only healthy and viable, but are also innovative, adaptive, and relentless in their focus on core purpose. This holds true whether leaders are advocating for the issues that affect their missions, exploring the benefits associated with intentional partnerships and collaborations, or sharpening their understanding of the relationship between overall strategy, effectiveness, and impact. BLF 2017 is the opportunity for us to come together as a community to support, empower and inspire one another, and ensure that every social sector organization has the leadership it needs to fulfill its mission and advance the public good. We invite you to join us in that vision.
Past speakers have included some of the most influential and inspiring leaders and thinkers in the nonprofit sector. They are board chairs, board members, and chief executives who are transforming their organizations through extraordinary board leadership; researchers who are forging new understanding of board leadership models and practices; advisors who are helping boards expand their impact and improve performance; and other influencers who are helping the nonprofit sector think differently about leadership and governance.
As a speaker at BLF 2017, you will have the opportunity to

Engage
---
participants in dialogue about important issues, trends, or challenges facing nonprofit leaders and boards

Teach
---
new knowledge, insights, or research to help leaders strengthen their board's leadership and impact

Network
---
with more than 900 chief executives, board members, senior staff, consultants, funders, and others focused on strengthening nonprofit leadership

Participate
---
in the full, two-day conference programming with a complimentary speaker registration
Build on the conference theme: Igniting Leadership for Power, Purpose, and Impact.
In addition to a compelling description, contain

learning objectives
propose a session format that is engaging and interactive for participants
articulate what an attendee can expect to learn and clear take-aways for the session

Are innovative. BLF is the most prominent national conference on nonprofit board leadership, and we look for sessions that have the content and approaches to support this distinction.
Incorporate real-world case studies, relevant hot topics, practical applications, and peer-to-peer learning opportunities as much as possible.
To submit your proposal, please do the following:
Complete the following online application form. The submission deadline is 5:00 pm EST, April 10, 2017.
Attach the headshot you would like us to use if you are selected to present.

We accept the following formats for photographs: jpeg, tif, and gif.
Please note that photographs may be displayed in black and white.
High resolution of at least 300 dpi works best.
Please note the following:
While proposals from consultants and advisors will be considered, the conference is not an opportunity to market your services, products, or professional experience.
Only completed applications, with accompanying headshot, will be reviewed.
Each session under consideration is subject to a telephone interview to review speaker(s) knowledge of the subject matter.
If you wish to submit more than one session proposal, treat each as a separate application.
All applicants will receive notification by May 5, 2017.
If your proposal is accepted, you are expected to meet all deadlines. Any speaker who does not meet a stated deadline will risk having his or her session cancelled.
First deadline: May 12
Confirm session information; presenter information; A/V needs; submit presenter agreement and releases