Mentor Your Way to Board Development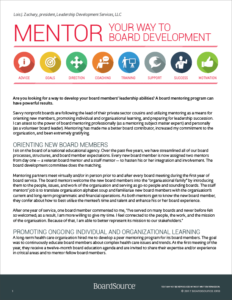 Savvy nonprofit boards are utilizing mentoring as a means for orienting new members, promoting individual and organizational learning, and preparing for leadership succession.
Peer mentoring is a powerful tool for board education because it engages people and harnesses the individual and collective power of the board. It has the added advantage of facilitating more trusting and meaningful board member relationships, building board cohesion, and ultimately contributing to the level of shared understanding that promotes more informed decision making.
"I've served on many boards and never before felt so welcomed; as a result, I am more willing to give my time. I feel connected to the people, the work, and the mission of the organization. Because of that, I am able to better represent its mission to our stakeholders."