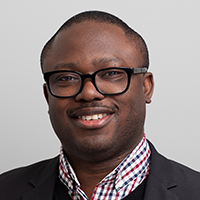 KOFI ADIMADO
Director of Assessments & Data-Driven Learning
As director of assessments and data-driven learning, Kofi Adimado is responsible for the internal oversight and implementation of BoardSource's consulting and performance assessment services. This includes overseeing the design, development, implementation, and evaluation of BoardSource's governance research and learning projects, as well as other strategic initiatives, with a focus on implementing learnings from our learning projects into our resources, methodologies, content, and other BoardSource practices. He manages consultant matching, supervises the assessments services team, and coordinates external research contractors.
Kofi brings more than 13 years of senior management experience to BoardSource, with leadership roles in the private, public, and nonprofit sectors. Prior to joining BoardSource, he worked at Aspire Business Network as a principal consultant and at James Madison University in Virginia as a management consultant to the Non-Profit Institute and adjunct professor at the College of Business.
Kofi is deeply involved in cross-sector research in the nonprofit space and has conducted research on nonprofits and social enterprises, leadership development, impact investment, and accountability frameworks within nonprofits. He has a Ph.D. in strategic leadership with a concentration in nonprofit and community leadership from James Madison University and a MBA (finance) and BSc. in development planning from Kwame Nkrumah University of Science and Technology in Ghana. In his free time, Kofi loves to draw/paint, play basketball, listen to music, and mentor youth leaders.