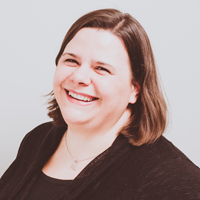 Kate Von Richthofen
Director of Program Services
As director of program services, Kate von Richthofen develops and nurtures high-touch, network-based consulting projects with funders, clients, and collaborators in support of BoardSource's leadership initiatives and to bring large-scale capacity building to the nonprofit sector. She specializes in creating unique solutions for large networks, international organizations, and cohort-based systems projects. She further specializes in creating and using online survey tools as part of these solutions.
Kate leads BoardSource's assessment services team in developing, managing, and administering board self-assessments, chief executive evaluations, and custom survey projects. She also leads teams to design, develop, and implement special products, programs, and solutions in alignment with BoardSource's service-provider and research-to-practice agendas, with a focus on implementing learnings from network-based consulting projects into tools, methodologies, and other BoardSource practices.
Kate holds a bachelor's degree in international studies with a concentration in international peace and conflict resolution from American University and a master's degree in diplomacy with a concentration in international business from Norwich University. She currently serves as the board chair for the Cherry Glen Condominium Association. Her past board service includes six years' service with the American University United Methodist Chaplaincy.