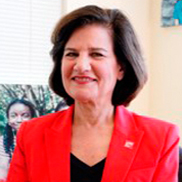 judy vredenburgh
Former President & CEO, Girls inc.

Judy Vredenburgh is president and CEO of Girls Inc., the organization that inspires all girls to be strong, smart, and bold. Girls Inc. provides more than 140,000 girls across the US and Canada with life-changing experiences and real solutions to the unique issues they face. Girls Inc. also works with policymakers to advocate on key legislation and initiatives.
Under Judy's leadership, a five-year strategic plan is invigorating the network of Girls Inc. affiliates to grow service to girls, increase revenue, and institute a participant tracking system and outcomes measurement for each girl served.
Prior to joining Girls Inc. in 2010, Judy served as president and CEO of Big Brothers Big Sisters of America and senior vice president of revenue development and marketing at the March of Dimes Birth Defects Foundation. Judy brings more than 20 years corporate experience from the retail industry, including as CEO of Chess King, a $257 million division of the Melville Corporation.
Throughout her career, Judy has been recognized for her business acumen, executive leadership, and commitment to advancing opportunities for girls and women to be healthy, educated, and independent. She has been honored as one of The NonProfit Times' Power & Influence Top 50 for her transformational leadership and named one of 100 Women Leaders in STEM by STEMconnector. She is a member of the New York Women's Forum.
Judy also has served on President Obama's Office of Faith Based and Neighborhood Partnerships Advisory Council, as a member of the University of Pennsylvania Board of Overseers, and on the board of directors of Independent Sector.
Judy holds a bachelor of arts degree from the University of Pennsylvania and an MBA degree from the State University of New York, Buffalo. She holds honorary degrees from Lynchburg College and Philadelphia University.