One of the board's primary responsibilities is to set direction for the organization through strategy and planning.
A strategic plan or framework serves as a roadmap and as a tool for assessing progress. Working side-by-side with staff leadership, your board should play an active and substantive role in developing, approving, and supporting your organization's strategy.
The nature of strategic planning is changing, however, in response to the turbulence caused by the recent recession and the challenge of planning in a constantly changing environment. BoardSource has seen a shift away from traditional strategic plans based on three- to five-year time horizons and long planning processes to strategic frameworks that articulate organizational priorities, to business plans that combine programmatic and operational goals with financial forecasts, and to more robust annual plans with clear metrics and timelines.
What is most important is that planning be done and that the strategy outlined reflects a shared board and staff vision of the organization's role, values, and priorities.
highlighted publication
Practices of High-Performing Boards Educational Seminar
Practices of High-Performing Boards: What the Best Boards Do Well, facilitated by a BoardSource Certified Governance Trainer, is designed for boards that are eager to take their leadership to the next level of performance. The seminar will allow board members to cultivate shared understanding and appreciation that fosters mutual accountability and engagement around exceptional board practices. It is especially appropriate for boards that understand governance basics and want to accelerate their performance for mission impact.
Visit the BoardSource store for more resources on this topic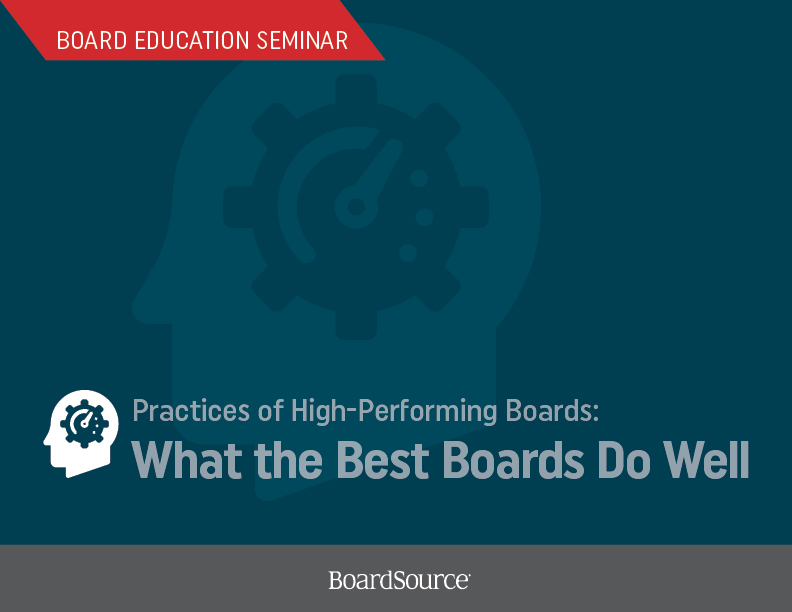 The following resources are designed to help boards improve their performance in the area of strategy and planning. According to Leading with Intent, strategic planning remains among the top areas in need of board improvement.
Community and Member Resources
All 101-level community resources listed below are available publicly. BoardSource members have access to 101-, 201-, and 301-level resources. Don't forget to visit the BoardSource store for more resources on this topic!