Webinar – Shaping Board Culture: Board Member Peer-to-Peer Assessment
October 25, 2018 @ 2:00 pm

-

3:00 pm

EDT

$35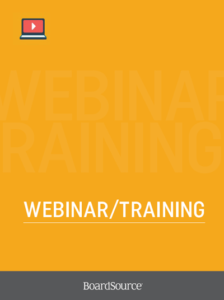 BoardSource's Peer-to-Peer Assessment (P2P) tool is similar to the familiar 360 degree assessment that you may have experienced as an employee or manager. In this case every board member completes an assessment of every other board member. The questions cover the skills and behaviors that the person demonstrates in their board work. The Peer-to-Peer is an incredibly powerful tool to shape the board culture and improve board performance. If each board member improves, then the board as a whole will improve.
This webinar will explain:
• When to use and when not to use the P2P
• The features of the P2P tool
• The benefits that the board can expect
• How to use the tool for maximum effectiveness.