Certificate of Nonprofit Board Consulting – March 2020
March 30 @ 8:00 am

-

April 1 @ 2:00 pm

PDT

Free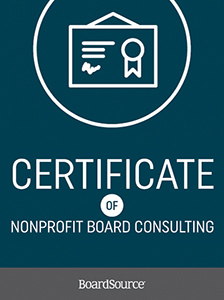 March 30-April 1 | Portland, OR
DETAILS
To better meet the ongoing need for governance training among nonprofit organizations throughout the country, BoardSource has created the Certificate of Nonprofit Board Consulting. This three-day course is designed to heighten the skills and abilities of those who currently, or would like to, consult and train nonprofit boards of directors on governance issues.
The course starts with a walk-through of core curricula that will give any board consultant the tools needed to address just about every major conversation that happens in the boardroom. This session is not designed to teach the curricula, per se, as there is an understanding that participants have a working knowledge of the basic tenets of board governance. Instead, we will discuss those facilitation techniques BoardSource has found most effective in helping simplify difficult boardroom discussions. Throughout our discussions, we will weave in higher-level nonprofit governance concepts, using case studies, group work, and current nonprofit headlines for a lively and fast-paced three days.
Upon successful completion of this course, all participants will receive the BoardSource Certificate of Nonprofit Board Consulting; select participants may be invited to join the BoardSource Certified Governance Trainer program. An annual BoardSource Consultant Membership is included in the price of this course.
PRESENTERS
Andy Davis, Director of Education, BoardSource
Susan Decker, Senior Governance Consultant, BoardSource