BLF Pre-Sessions — Nonprofit Board Service: Fundamentals for Success
May 6 @ 9:00 am

-

4:30 pm

EDT

$25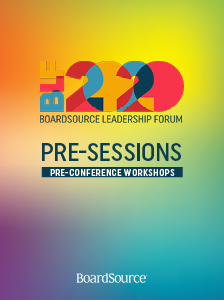 Great nonprofit boards need great board members. But being a great board member doesn't mean being the wealthiest or most well connected; it means being a committed and intentional partner in furthering the organization in its journey to achieve its mission and build a stronger community. Most importantly, being a great board member means understanding your role in moving the organization forward.
Join BoardSource for a day of learning that will include two separate sessions that will build on one another to create stronger, more committed board members.
Date: May 6th 2020
Location: Hyatt Regency at the Arch
Price: $25 per session or $40 all day
Note: To register for sessions 1 and 2, please select the "BLF Pre-Session Full Day" below.
Session 1 | 9:00am – 12:00pm: Building a Governance Legacy
It's impossible to do a job well if you don't know what the job is. That's why all boards must take the time to ensure that every board member fully understands what's expected of them. This session will ensure that you are ready to tackle board service by discussing the essential roles of the board as a whole, as well as board members individually.
Based in Memphis, Tennessee, Vicki Clark has extensive experience as both a nonprofit leader and consultant. She has delivered training on a variety of nonprofit governance topics to a broad range of organizations, including boys and girls clubs, American Institute of Graphic Arts, Association of Professional Chaplains, Allen County Public Library, and Sangamon County Community Foundation, among others.
Vicki also has her own consulting practice in which she helps build the capacity of nonprofit, government, faith-based, and business sector organizations through training, speaking, writing, and consulting. In this capacity, Vicki has worked with the Leader to Leader Foundation (formerly the Peter F. Drucker Foundation), Northwest Regional Educational Laboratory, Prevent Child Abuse America, Association of Junior Leagues International, Association of African American Museums, Literacy USA, and others.
Session 2 | 1:30pm – 4:30pm: Creating a Fundraising Culture
Boards play a critical role in fundraising. The most successful organizations know that and have built a powerful partnership between the board, the executive, and the staff. Unfortunately, some boards resist their responsibility to actively engage in fundraising efforts; some simply don't understand how to be most helpful. Building on the morning session on the board's responsibilities, this session will help board members better understand what their role should be when it comes to fundraising and overcome some of the common fears and misconceptions.
In addition to serving as a BoardSource senior governance consultant, Chuck Loring, MBA, CFRE, is the senior partner of the Fort Lauderdale- and Indianapolis-based firm of Loring, Sternberg, & Associates, which provides fundraising and governance consulting services to nonprofits.
Chuck is a past president of the Indiana chapter of the Association of Fundraising Professionals; is a Certified Fund Raising Executive; and holds a bachelor's degree in communications from the University of California, Santa Barbara (UCSB) and an MBA from the Marshall School of Business at the University of Southern California. He is a former president of the University of California Alumni Association and a former trustee of the UCSB Foundation.
Chuck has helped hundreds of local and regional nonprofits across the country improve their governance, including such prominent charities as Special Olympics, Boys and Girls Clubs of America, Girl Scouts USA, Make-A-Wish America, Easter Seals, Planned Parenthood, Feeding America, and the Smithsonian National Museum of the American Indian.