Recorded webinars are designed to provide your board and staff with the knowledge they need to effectively lead your organization. Choose from a variety of topics and listen when it is convenient for you. All recorded webinars can be found in our store.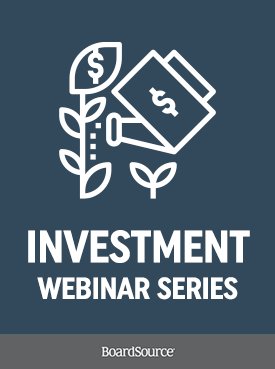 Featured Series
BoardSource & Raffa Wealth Management Present: 'Investment Best Practices for Nonprofits'
---
When boards are considering their organization's investment portfolio, it can be difficult to discern what is important beyond performance. This series of 4 webinars aims to provide board members with the tools they need to look beyond performance and objectively evaluate their policies, performance and adviser. Dennis Gogarty, President of Raffa Wealth Management, has worked with nonprofits for the past 15 years and created the Study On Nonprofit Investing (SONI) specifically to empower nonprofits with actionable peer benchmarking data about investments.  Whether your organization is in the initial stages of creating an investment portfolio, or has had one for many years, these webinars will provide you with information to take back to your next board meeting and start the conversation.
All Recorded Webinars
---
Browse through our online store to view the full list of recorded webinars. Our webinars are organized by topic to help you find information that is most helpful to you.