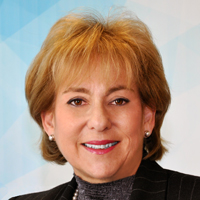 Ann cohen
Senior Governance Consultant, BoardSource
Ann Cohen, who is based in the Washington, DC area, brings more than 30 years of leadership experience in the nonprofit and private sectors to her consulting and training engagements. Ann provides consultative guidance and training to nonprofit boards seeking to rise to greater levels of commitment and to engage in strategic planning and action. Her clients include American Legacy Foundation, Corporation for Public Broadcasting, and the United States Department of Agriculture Cotton Board.
Ann is also an executive business consultant who founded Ann Cohen & Associates in 1999 to use her combined business focus and nonprofit experience to enable nonprofits to identify and achieve their strategic goals. In this capacity, her work encompasses management effectiveness reviews, strategic planning, board engagement, development and governance assessments, market readiness, and the leadership guidance and learning required to manage and implement change. Through her work at Ann Cohen & Associates, Ann has worked with national and governmental organizations including American Chemical Society, Credit Union National Association, International Foundation for Election Systems, Lupus Foundation of America, National Osteoporosis Foundation, and United Jewish Communities, as well as the United States Department of Justice, GE, Crossroads Systems, and SRA Corporation.
The roots of her consulting practice derive from more than 25 years as a vice president at Electronic Data Systems (EDS) and as a trial attorney with the United States Department of Justice. At EDS, she established several business units in the areas of financial markets, law enforcement, and aeronautics, developing and growing them to more than $3.5 billion in revenue. As an attorney, she handled federal cases across the country and in the United States Supreme Court.
Ann has served on many nonprofit boards in the areas of the arts, education, religion, and community building. Among the honors for which she is most proud are her selection as a "Federal 100" winner, an award naming the top information technology executives from government and industry, and her appointment to the United States-Israel Science and Technology Commission.
Ann graduated cum laude from Clark University with a BA degree and earned a JD degree from Antioch School of Law.