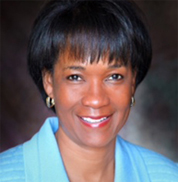 Sharon Rossmark
Treasurer
Chief Executive Officer, Women and Drones LLC
Sharon Rossmark is the CEO of Women and Drones LLC, the premier global platform for Women in the Unmanned Aerial Systems (UAS) industry. Her executive background includes corporate officer experience with diverse industry and functional positions in publicly traded Fortune 100 and start-up companies.
In addition to serving on the BoardSource board, Sharon currently serves as chairman of the board of directors for the National Children's Center, Washington, DC, and as a board member of Special Olympics Illinois. Previously, Sharon served as vice chairman of the board of directors and chair of patient safety for Sinai Health System, Chicago. She also has served on the American Hospital Association's Committee on Governance and as a governance expert on the editorial advisory board for the Journal of Patient Safety.
A governance geek, Sharon is a frequently requested speaker, panelist, and facilitator on board governance, the role of the board in patient safety, and executive mentoring. She is a regular contributor on board governance for the TMIT Patient Safety Leaders, a global monthly webinar for health care professionals.
Sharon earned the Governance Fellow designation from the National Association of Corporate Directors, completed her undergraduate studies at Illinois State University, and received a MBA degree from the University of Illinois – Chicago.
Sharon has established an endowed scholarship to support US military soldiers and veterans enrolled at Illinois State University. She also is the executive producer of the WWII documentary, David Brown's D-Day, The Story of a WWII Veteran. Portions of the documentary appeared in an Emmy Award-winning History Channel documentary.