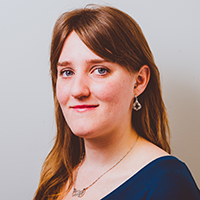 Abigail Stallworth
Associate Manager,
Philanthropic & Nonprofit Partnerships
Abigail Stallworth joined BoardSource's Strategic Development and Partnerships team in January 2018. She is responsible for identifying, researching, cultivating, and stewarding relationships with new and existing foundation partners.
Before joining BoardSource, Abigail was a grantwriter at Elevate, where she drafted and submitted grant proposals and reports in addition to conducting prospect research for six national nonprofit clients. Prior to that, Abigail worked for two and a half year at Polaris, a national anti-human trafficking nonprofit, on the fund development team. She graduated from American University in 2013 with a bachelor's degree in international relations and women, gender, and sexuality studies.
When not in the office, Abigail often finds herself creating highly specific Spotify playlists, planning trips abroad, and enjoying any of DC's non-National Mall green spaces.