Introducing Nonprofit Board Committees
All the information you need to know about board structure, common standing board committees, and advisory groups in one volume for the first time.
Commit to strong nonprofit governance and leadership.
Our signature Board Support Program offers year-round governance guidance, resources, and leadership development to you, your board, and your organization.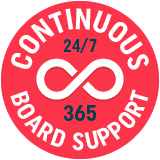 Board Support Program for Nonprofit Organizations
The Board Support Program, our core membership program, is designed for nonprofit organizations that are looking for year-round support, and for those who are committed to continued advancement, helping to strengthen their boards and missions. BoardSource offers additional membership programs for federated networks, foundations, corporations, schools, and individuals.
An Executive Retreat for CEOs & EDs
Meet and connect with other nonprofit chief executives from throughout the country and sector to discuss the unique challenges of the chief executive role and what it takes to strengthen the leadership partnership between you and your board. This course encourages self-reflection and provides a "safe" place for sharing and learning.