The BoardSource Leadership Forum is a conference focused on nonprofit leadership at the highest level – the board of directors.
At the 2017 conference we gathered 1,000 board members, executive directors and CEOs, staff, and nonprofit professionals for two days to discuss the newest thinking and best practices in nonprofit governance.
Through plenary sessions, workshops, discussions, presentations, and networking events, our participants learn how to guide their organizations toward greater impact and mission fulfillment.
The Board's Role in Fundraising
Download session materials – Handout #1
Pre-session facilitated by: Chuck Loring
Leadership from the board of directors is a critical component in nonprofit fundraising success. Is your board comfortable in its fundraising role? Do your board members know the steps to successful fundraising? Do they know that fundraising is really not about asking for money? Do you know how to engage your board in meaningful fundraising? This interactive workshop answered these questions and identified resources to assist you in helping your board fulfill its responsibility to fundraise.
Thursday | October 19 | 8:45-10:00 – Opening Plenary
Igniting Leadership for Power, Purpose, and Impact
Speaker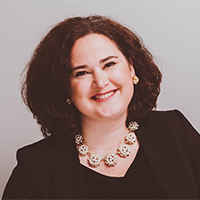 Anne Wallestad
President & CEO, BoardSource
Anne Wallestad serves as president and CEO of BoardSource, a globally recognized nonprofit focused on strengthening nonprofit leadership at the highest level — the board of directors.  Recognizing the critical partnership between boards and executives, and the impact of that partnership on overall organizational success, BoardSource helps nonprofit leaders invest in their leadership partnership by providing research, thought leadership, and practical supports that help transform board structures, dynamics, and perspectives.

  Follow Anne 
Thursday | October 19 | 10:15-11:30 – Concurrent Sessions
Thursday | October 19 | 11:45-1:00 – Lunch Plenary with David Williams, PhD, MPH
Understanding and Effectively Addressing Diversity and Inclusion: Challenges and Opportunities
This presentation will provide an overview of scientific evidence regarding the levels and extent of inequality in the U.S. It will discuss theory and evidence regarding the influence of institutional, interpersonal, and individual factors that create these inequities. It also will describe promising, practical strategies that work to promote equity and build a culture of inclusion. And it will indicate that moving an equity, diversity and inclusion agenda forward is central to the personal and national interests of all Americans.
David Williams, PhD, MPH
David Williams, an internationally recognized authority on social influence on health, is the Florence and Laura Norman Professor of Public Health at Harvard's T.H. Chan School of Public Health and professor of African and African American studies and sociology at Harvard University. His research has enhanced our understanding of the complex ways in which socioeconomic status, race, stress, racism, health behavior, and religious involvement can affect health. The Everyday Discrimination Scale that he developed is one of the most widely used measures of discrimination in health studies.
He has played a visible, national leadership role in raising awareness levels of the problem of health disparities and identifying interventions to address them. This includes his service as the staff director of the Robert Wood Johnson Foundation's Commission to Build a Healthier America and as a key scientific advisor to the award-winning PBS film series, Unnatural Causes: Is Inequality Making Us Sick?
Thursday | October 19 | 1:15-2:30 – Concurrent Facilitated Discussions
Post-Plenary Discussions: Reflecting on the Nonprofit Sector's Role in Addressing Racism
Session Materials: Handout #1
BoardSource is looking forward to the plenary featuring David Williams, PhD, MPH, during which he will share his insights from his groundbreaking work on racially based health and economic disparities and interventions. Immediately following the presentation, BoardSource will facilitate conversations for all conference participants focused on exploring organizational efforts to understand and address how race and racism impact the work we do. Whether your organization is deeply engaged in racial equity work or new to the conversation, these conversations will provide the space to reflect, learn, and share.
Thursday | October 19 | 2:45-4:00 – Concurrent Sessions
Thursday | October 19 | 4:15-5:30 – Concurrent Sessions
Thursday | October 19 | 5:45-6:15 – Quick Talks
What is a Quick Talk?
Come to Willow A + B for entertaining and rapid-fire mini-sessions by your conference peers. Presentations will feature case studies, stories, lessons learned, best practices, and more. This is not a sales pitch, but a chance to engage with the community and hear stories from the field. This BLF first will be informative, inspirational, and fun. Light beverages provided, no registration required.
Friday | October 20 | 8:30-9:30 – Mini Plenaries
What You Do Matters: Putting Your Work into Perspective
Session Materials: Handout #1
Mini-Plenary
As a member of the board or staff, you give more than money or expertise to your organization. You give your time, one of the few commodities that can't be replaced. Often, with the pace of change and the need for the board and organization to operate at peak efficiency just to keep up, we lose sight of what it's all about. When was the last time you stopped and reminded yourself of your organization's greater purpose? It may be time to step back and remember that what you do matters. In this session, Dave Sternberg, CRFM, BoardSource senior governance consultant and author of Fearless Fundraising for Nonprofit Board Members, will share how his work with four nonprofit organizations are connected directly to your organization. He'll take you on a journey from Statesville, NC, to Kathmandu, Nepal, to Pittsburgh, PA, to rural Afghanistan, and then right back to your seat in Seattle, WA. You will leave the session and head home to your own community and organization with renewed confidence in your work and the energy necessary to re-enter the boardroom and tackle the next challenge.
Speaker
Dave Sternberg
BoardSource senior governance consultant; principal, Loring, Sternberg, and Associates; and faculty member, The Fund Raising School at the Indiana University Lilly Family School of Philanthropy
Dave Sternberg joined the nonprofit sector soon after obtaining a bachelor's degree from The Ohio State University. Today, he is a faculty member of The Fund Raising School at Indiana University's Lilly Family School of Philanthropy, a BoardSource senior governance consultant, and an independent consultant with Loring, Sternberg and Associates. His consulting clients describe him as a gifted strategist, adept at assessing and identifying solutions for organizational and board challenges, and brutally honest. In partnership with BoardSource, Dave authored the second edition of Fearless Fundraising for Nonprofit Boards, which is one of the organization's best sellers. He is active in the Indiana chapter of the Association of Fundraising Professionals and is a board member of Habitat for Humanity of Greater Indianapolis and Catch the Stars Foundation.
From Mired to Marvelous: Leading Board Transformation
Mini-Plenary
When an organization is on the cusp of major change, the board needs to be more than a receiver of reports and approver of management proposals. To lead change, make a real difference, and be accountable, the board needs to ask questions — good questions, engage in conversations — hard conversations, and make informed decisions on issues — challenging issues.
In this mini-plenary, Cathy Trower, author of The Practitioner's Guide to Governance as Leadership, will introduce the common denominators of successful board transformation before asking three key leaders involved in a governance change process to share the barriers, enablers, and lessons learned in leading board transformation. Join us to learn from Cathy and the chief executive, board chair, and governance committee chair of The RiverWoods Group in New Hampshire how to move a board from mired to marvelous. There will be time for questions from the audience.
Moderator
Cathy Trower
Principal, Trower & Trower, Inc.
Vice Chair, BoardSource Board of Directors
Cathy Trower is principal of Trower & Trower, Inc., through which she provides a full range of board governance consulting services to nonprofit organizations. She is author of The Practitioner's Guide to Governance as Leadership: Building High-Performing Nonprofit Boards (Jossey Bass, 2013), Govern More, Manage Less (BoardSource, 2010), and "Flipping the Boardroom for Trustee Engagement: Why and How" (AGB – Trusteeship, March/April, 2015). Cathy has a PhD in higher education administration from the University of Maryland, College Park, and an MBA and BBA from the University of Iowa. She serves on the boards of BoardSource, RiverWoods Retirement Community, and Wheaton College.
Panelists
Bruce Mast
Board Chair, RiverWoods at Exeter
President, Bruce Mast & Associates
Bruce Mast, chair of the RiverWoods at Exeter board, is president of BMA, a firm known for helping individuals and organizations that are stuck or at a juncture point find a productive way forward through coaching, strategic planning, and leadership development. He also has taught organizational management and leadership in graduate-level programs and is currently an adjunct faculty member of the finance department at the University of New Hampshire's Paul College of Business and Economics. In addition to serving as the board chair of RiverWoods at Exeter, Bruce serves on the governance committee for Strawbery Banke Museum and on the New Hampshire Hospice and Palliative Care Organization board. He has received several awards for his board and community service and has a master's degree in peace studies (applied ethics) from the Anabaptist Mennonite Biblical Seminaries and a BA degree in social science, summa cum laude, from Bethel College.
Patty McCartan Prue
Board Vice Chair and Former Governance Committee Chair, RiverWoods at Exeter
Executive Coach and Management Consultant, McCartan Consulting
Patty McCartan Prue, vice chair of the RiverWoods at Exeter board, is an executive coach and management consultant. Prior to forming her own firm, McCartan Consulting, Patty was senior vice president of HR for a 36B global company and has extensive experience in international human resources and mergers and acquisitions. Her industry experience includes health care, pharmaceutical, electronics, engineering and financial services. Her professional certifications include Executive Coaching-Behavioral Coaching Institute, Leadership Versatility Index 360, and Emotional Intelligence (MSCEIT-Testing). She is a graduate of Stonehill College.
Justine Vogel
President & CEO, The RiverWoods Group
Justine Vogel joined The RiverWoods Group in June 1994 as a member of the pre-opening team and director of accounting. She subsequently grew into the roles of CFO in 1997, COO in 2005, and president/CEO in 2007. A graduate of Rutgers University School of Business with a B.S. degree in accounting, Justin is a certified public accountant in the state of New Jersey and serves as a board member of Leading Age of Maine and New Hampshire. She is frequent speaker on strategic management, growth planning, culture development, and financial oversight. Her prior experience includes several years in auditing and financial analysis with Arthur Andersen & Co., Ernst & Young, and Chubb Life Insurance Company.
Friday | October 20 | 9:45-11:00 – Concurrent Sessions
Friday | October 20 | 11:15-12:30 – Concurrent Sessions
Friday | October 20 | 2:00-3:15 – Concurrent Sessions
Friday | October 20 | 3:30-4:45 – Closing Plenary with Eric J. Jolly, PhD
Putting Your Values into Action

Eric J. Jolly, PhD
Eric Jolly, president & CEO of Minnesota Philanthropy Partners, has dedicated his life to educating, elevating, and giving voice to people in his communities. As president and CEO of Minnesota Philanthropy Partners, he matches donors' charitable resources with community solutions via a network of Minnesota foundations that includes The Saint Paul Foundation, Minnesota Community Foundation, Mardag Foundation, and more than 2,000 charitable organizations and donor funds throughout the state. Eric has declared his intention to create a philanthropic arc to serve donors at all stages of life who are committed to strengthening their communities.
Widely recognized for his work with communities and policy makers, Eric has published articles and books and has lectured around the world about the importance of STEM (science, technology, engineering, and math) education for culturally diverse populations. He believes science is an essential literacy for civic and economic participation.